If Hong Kong falls to Chinese, will there be an effect on democracy worldwide?
It is difficult to understand that Hong Kong being part of China is a world wide recognized fact. There are still people see them as different country.
Anyway, democracy is considered as PERFECT system and every country should adopt. A non democracy country becomes evil country regardless. I have some questions for those pro-democratic.
Why do so many US and allied people criticize Trump? He is the president you guys elected under the "democratic" system? It just doesn't make any sense that you hate whom you people elected and let him to be the president. If democracy is a bullet proof system, Trump is the one you should love. Search Google image with keyword "idiot", Trump's photo ranks #1 and dominates half of the search results. Is that the best product under a democratic system?
In China, it is a one party political system. Do you know how many people are happy with the current system than against it? For over 3000 years of history, the Chinese people have needed a capable leader to run the country, and create a politically and economically stable life. That is what the Chinese people want. Democracy lets people elect an idiot as president then complain whom they have elected every day on the internet. How does this help the development of your country?
Why do you want to impose your belief on others without carrying out thorough research? The rapid development of a country relies on an efficient government. Which political system is more efficient?
Based on facts, China spent just 30 years to catch up to the US in all respects . Which democratic countries can be that efficient?
US has turned so many countries to democracies, which one is a successful example that you can name? Which US transformed democratic countries are not under US political control/interference? What's the point of being democratic but being controlled by the US? Is that real democracy? Japan, South Korea, Taiwan, etc. who dare to say no to US? They are democratic nationally, and autocratic internationally. Of two choose one. I'd rather choose autocratic nationally and democratic internationally.
I am from Hong Kong. It is undeniable that Hongkong is part of China, so please keep words like invade, fall into, controlled by, taken over by (etc.) to yourself. Besides, why is there one country, two systems? The Chinese Government stepped back when negotiating with the British in order to retrieve a lost land by an unfair treaty. Why should a tenant place conditions on the owner when moving out?
Look at the current situation, do you think people in China are happier or people in Hongkong? Who has better opportunities in any respect?
Do you think by changing HK to a democratic system, all other things will stay the same as they are? Will your mechanical watch function the same when you take away a flywheel? One change will have a series of impacts on the whole community, not to mention changing a political system.
It is certainly alright for others to talk about it, and make a fair discussion, but not telling us what we should do, and what's good for us. We live here and we know what's good for us. 30 years ago, you wouldn't see any Chinese festival celebrations overseas. Then, start to celebrate Chinese new year, now mid autumn (moon cake festival) also included in local council agenda. Why don't local councils celebrate festivals of other countries, just Chinese? What changes this? Its China's international status that changed all these. So, why should Chinese people want to introduce democratic government like US, select someone and then regret and blame, pulling the country's development backwards?
China has successfully proven that its current political system works for China: the life of people is improving, international status is improving, turning China to be a strong country who can say no to US. Which country in the world not being ally of US, say NO to US without getting bombed? Would you accept China selling you the Chinese political system, just like you are trying to impose democracy on China?
…
There are more but I am tired to type and keep repeating questions and questions of similar topic.
Finally, if China becomes democratic, what will happen are:
Easy to be controlled by US
Easy to split like Soviet Union
Will never have chance to overtake US in any aspects
These are reasons why US is so generous to fund riots in HK, making a serious mess. These are not helping the Chinese to pursue freedom, it is helping the US itself to be able to control others, being bossy.
Wake up, democracy is not helping Chinese. Imposing democracy in China is helping the US only.
Note: if the US really wants to offer freedom to the Chinese, let the Chinese freely choose with no interference from the US. For China, international freedom can be gained by becoming stronger and surpassing the US.
Chinese has freedom to speak up how to improve and strengthen the country. Criticizing a government and leader does not help the progress of a country.
As US businesses suffer, has Trump changed? His act keeps pulling US businesses down and lets them drown. Is this an example of the short side of democracy? If Trump keeps ignoring different voices from people, how do you demonstrate the advantage of democracy?
Edited 25\09\2019
These protesters are being portrayed as democratic heroes by the western media … with the freedom to destroy human rights under the flag of democracy campaign initiated, directed and funded by the US. I feel extremely upset and angry.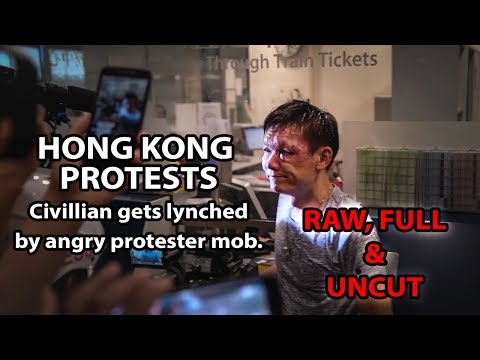 [RAW] Hong Kong: Protest mob knocks this guy out [FULL lead-up] – I GOT LIFE THREATS FOR POSTING
29/09/2019
Very good point of a democracy system and honorable critic to BBC's respondent in HK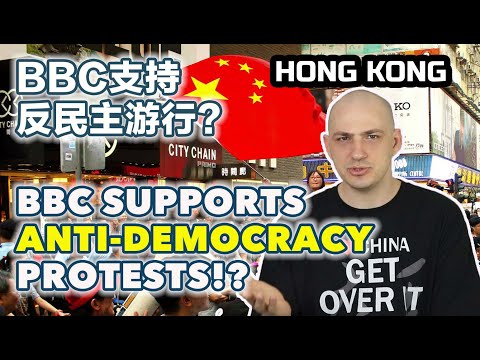 ✖️Hong Kong! BBC Supports Anti-Democracy Protests!?
Added 30/10/2019
Detail analysis of the US democracy and evidences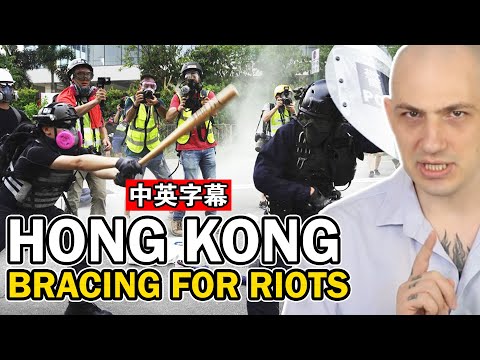 ✖️Hong Kong Bracing for Riots